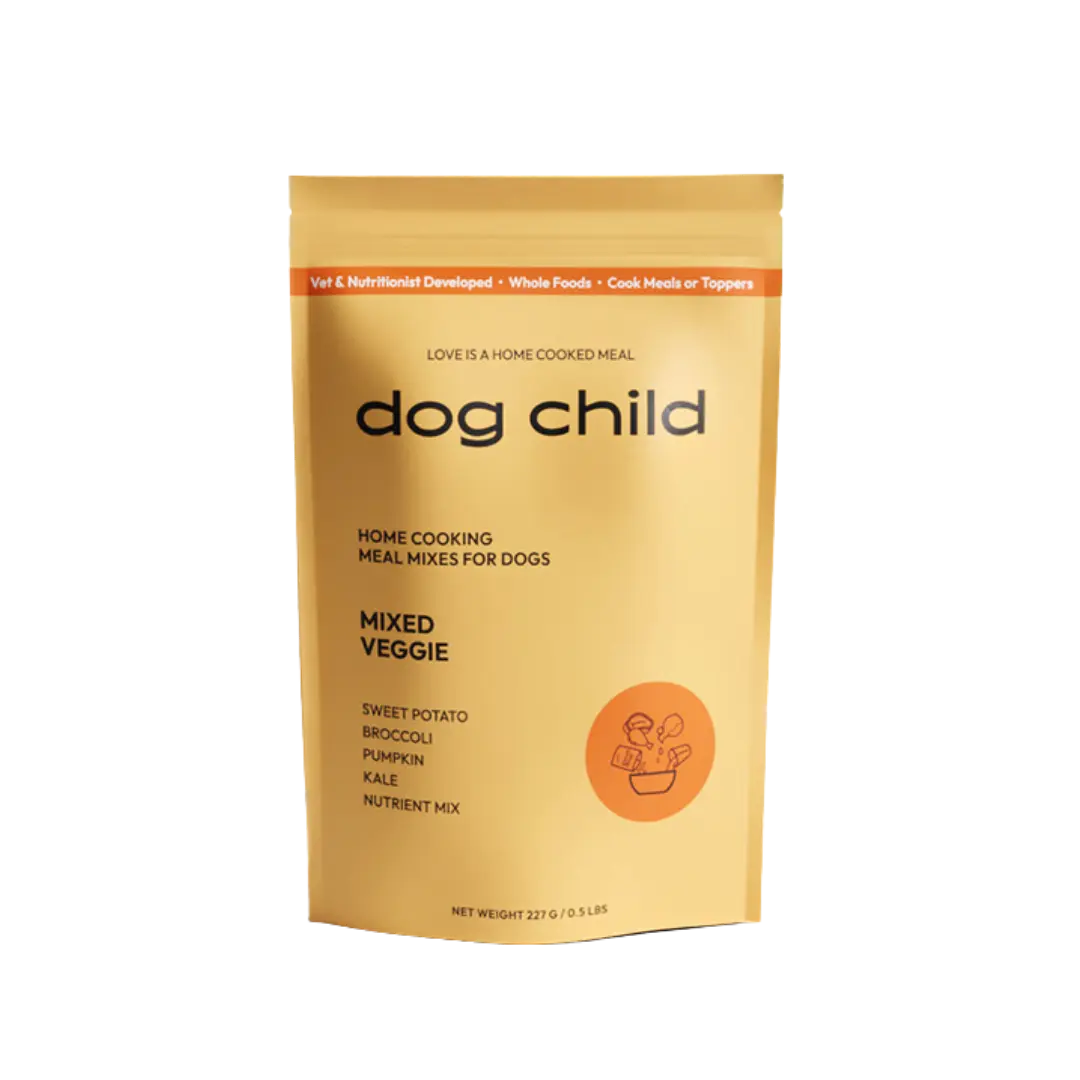 Mixed Veggie Trial Size Bag Meal Mix for Dogs
Cook your dog fresh delicious meals in 15 minutes a week, with the confidence that they are getting the optimal nutrients. In just 3 easy steps, mix in cooked protein (beef, lamb, turkey, chicken or pork), Dog Child Meal Mix, water and oil. Bon Appetit!
Formulated with Leading Pet Nutritionists and Vets
+75 Whole-Food Sourced Nutrients
Dark Green Superfood Veggies
Complete and Balanced Meals
Each Bag Is 227 grams
Mix with 226 grams of ground protein
12 Cooked Meals Per Bag for a 20 lb Dog

Cost per Cooked Meal $2.50 = $1 Dog Child Meal Mix + $1.50 Protein 

E-Cookbook with Order 
Superfoods for a
Healthy Skin & Coat
The Basics
Supports Long Term Health and Longevity - Feeding fresh food has been proven to reduce the chances of certain diseases and extend a dog's lifespan.
Complete Control Over Ingredients - Is especially beneficial for dogs with allergies or gastro issues.
Sustainability - We use small format packaging, upcycled ingredients and show you how to reduce food waste at home.
Love - What's a better way to show your dog just how much you love them than with a nutritious home cooked meal?
Save - Home cooking is 50% the cost of fresh food delivery.
All in One Nutrition - Our Meal Mixes include prebiotics, omegas and +75 whole-food sourced nutrients so you don't need to add in multiple supplements at mealtime.
We all say we want the best for our dogs. Now lets start cooking!
Here is how many meals each bag will cook when mixed with protein.
| | | |
| --- | --- | --- |
| Dog Weight | # Meals Per Bag | # Meals When Used As Topper |
| 5 lbs | 131 | 1,310 |
| 10 lbs | 78 | 780 |
| 15 lbs | 70 | 700 |
| 20 lbs | 60 | 600 |
| 25 lbs | 40 | 400 |
| 30 lbs | 35 | 350 |
| 35 lbs | 30 | 300 |
| 50 lbs | 25 | 250 |
| 60 lbs | 20 | 200 |
| 70 lbs | 19 | 190 |
| 80 lbs | 18 | 180 |
| 90 lbs | 16 | 160 |
Mixed Veggie Meal Mix Ingredients:
Organic Sweet Potato, Organic Broccoli, Dog Child Essential Nutrient Mix, Pumpkin, Organic Kale, Parsley.
Dog Child Essential Nutrient Mix
Flaxseeds, sweet potato, carob, calcium carbonate, brewers yeast, tricalcium phosphate, natural flavor, fish oil (preserved with mixed tocopherols and citric acid), choline chloride, kelp, lecithin, yeast culture, miscanthus grass, sea salt, marine microalgae, bacillus coagulans, potassium chloride, DL-methionine, fructooligosaccharides, paprika, turmeric, yeast extract (MOS), L-lysine, taurine, L-tryptophane, ginger, fumaric acid, lactic acid, citric acid, malic acid, betaine, L-carnitine, yucca schidigera extract, vitamin E supplement, zinc proteinate, iron proteinate, nicotinic acid, calcium pantothenate, supplement riboflavin, vitamin A supplement, thiamine mononitrate, vitamin D3 supplement, pyridoxine hydrochloride, copper proteinate, manganese proteinate, sodium selenite, calcium iodate, vitamin B12 supplement, folic acid
If cooking instructions are followed accurately, all Dog Child meal mixes are formulated to exceed AAFCO adult maintenance.
Protein + Oil + Dog Child Meal Mix
1. Measure: In a mixing bowl, measure and pour the correct amount of the Dog Child and rehydrate with water.
2. Cook Protein: In a pan, thoroughly cook your dogs protein of choice (beef, lamb, chicken, turkey, pork or cod + egg).
3. Combine: Mix protein and oil in with the Dog Child Meal Mix.
Bon appetit! Store in the fridge for 2-3 days or freeze for up to 30 days.
Dog Child Meal Mix 1 3/4 Cup (227g) + 1 Cup Water (227g) + 1 lb Protein (454g) + 1 Tbsp Oil (13g)
For cod add in 200g of egg. For beef 4x olive oil.
See Complete Cooking Instructions Here.
See Complete Nutritional Value Here.
Transitioning to Dog Child:
Transition gradually by adding an increasing amount of Dog Child Cooked Meals to the current food being fed over a week.
How To Use
Follow these simple steps for the perfect meal, everytime.
Join Our Dog Child Community
View our latest posts. #DogChild