LOVE IS A HOME COOKED MEAL
We've made it easier than ever to cook for your dog
Essential Nutrient Mix
Cook completely from scratch with the Essential Nutrient Mix.
Meal Mixes
Cook your dog fresh delicious meals in 15 minutes a week, with 3 easy steps. All you need is your Meal Mix, protein, and oil!
Why Dog Child?
What better way to show love than a home cooked meal?  We want our dogs to live the best life possible through food. Which is why we formulated a premium range of nutritionally-complete products and recipes for homemade meals.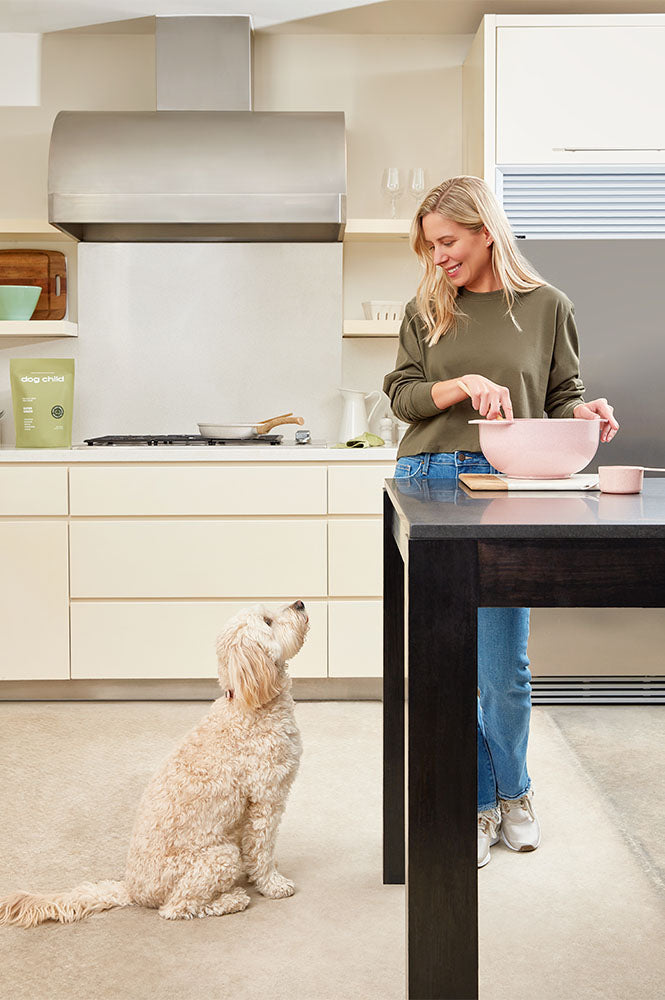 Simple
In just 15 minutes a week, you can cook your dog a meal you are proud of.  Meal Mixes just add protein, water and oil for balanced meals. Essential Nutrient Mix for home cooks.
SHOP
Nutritious
Developed with leading vets and nutritionists to make your home cooked meals complete and balanced.
MEET US
Delicious
Recipes & tips and tricks to make homemade meals your dog will absolutely love. 
RECIPES
Welcome To The Family
Looking for inspiration? Check out our delicious Dog Child recipes and tips to make easy, healthy meals at home. Excited to have you as part of our #DogChild Community.
Grain Free Meal Prep Pops
These bites of deliciousness are so easy to make and you'll have enough to last the week with just one ice cube tray – saving time, energy, and of course money.
See recipe
Nutrient Mix
for Gut Health
Superfoods for
Skin & Coat
Cook your dog fresh delicious meals in 15 minutes a week, with the confidence that they are getting the optimal nutrients. In just 3 easy steps, mix in cooked protein (beef, lamb, turkey, chicken, pork or cod & egg), Dog Child Meal Mix, water and oil. Bon appetit!
Formulated with Leading Pet Nutritionists and Vets
+75 Whole Food Sourced Nutrients
Dark Green Superfood Veggi...